With the release of Jurassic World: Fallen Kingdom in 2018, it's amazing to think that this popular blockbuster movie franchise has been wowing international audiences for 25 years, following the hugely successful original release of Jurassic Park back in 1993.
It's evidence that moviegoers clearly have a taste for dinosaur themed creature-features and enjoy coming back for more.  Let's raise a glass and sip some crazy cocktails that have been inspired by the silver screen adventures.
Cool cocktails for thirsty dinosaurs
The Lost World: Jurassic Park was the second movie release in the franchise in 1997 and, of course, we'd be lost without knowing the cocktail ingredients and recipe detailsof what we're going to make. There's quite a lot that goes into the Jurassic World Cocktail we'll look at first but, thankfully, the entertaining people at Tipsy Bartender have provided a detailed list of what goes into this clever creation.
Into the mix for this go Jägermeister, bourbon, simple syrup, lime Jello, lemon juice, vodka, Sour Apple Pucker from De Kuyper for some bite, along with lemon-lime soda, and heavy whipping cream for texture. It's "garnished with pineapple leaves for some extra Jurassic tropical cocktail goodness," they tell us with enthusiasm. A little visual inspiration also helps add flavor, with a dynamic duo presenting how the Jurassic World Cocktail is made, below.
For our next tasty treat, there's an appetizingly slender look to the Jurrasic Park Cocktail via InShaker, with the finished mix all going into a sling glass filled to the top with crushed ice. Getting the lips puckering in this one is Gold tequila Sauza, Falernum liqueur, Amontillado sherry, Angostura bitters, and ginger syrup. It's then garnished with a healthy sprig of mint on the top.
Having all the right tools for the job is also important, so don't forget the aforementioned sling glass to get the right look, along with a swizzle stick, squeezer, jigger and, for each refreshing little sip of this icy concoction, a couple of drinking straws. Just make sure the T-Rex in the house doesn't get them stuck between their teeth.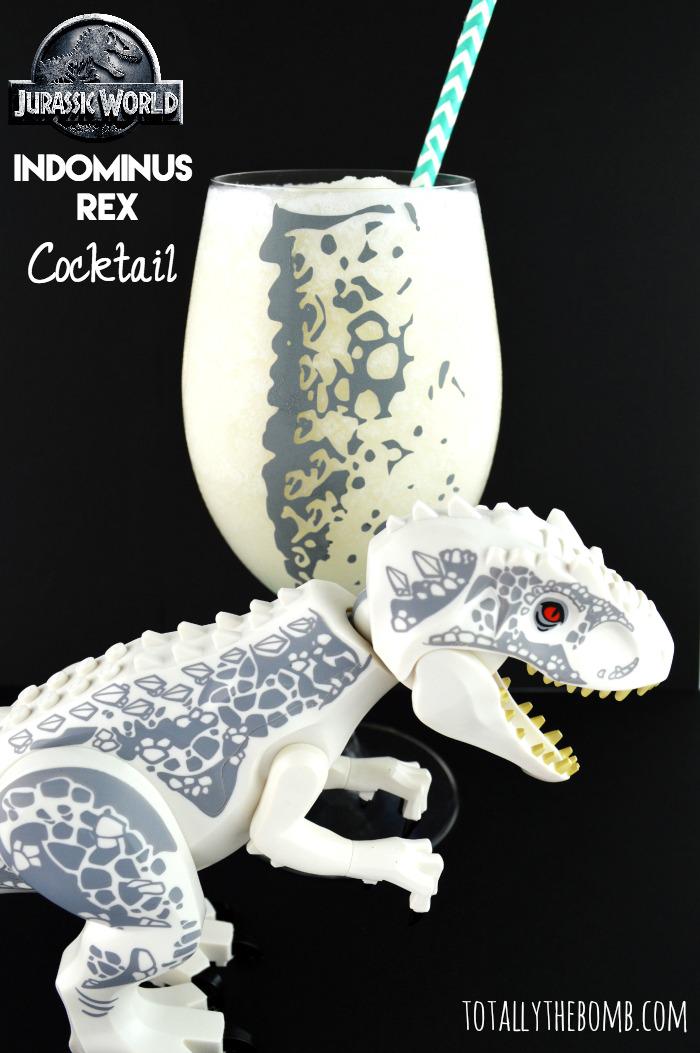 Image: @jamieharrington via Twitter
Finally, Totally the Bomb bring us the Indominus Rex Cocktail, which itself was a hybrid cocktail of DNA from numerous fearsome dinosaurs in Jurassic World, which inevitably went on the rampage. A blender is needed for this one and, like any good cocktail in which key beverages are under the spotlight, this one features a double helping of rum, using both Captain Morgan Coconut White Rum and Captain Morgan 1671 Spiced Rum. The consistency comes from mixing in some zero-sugar Glacier Cherry Gatoradewith crushed ice, along with cream of coconut and for added texture and flavor.
Sipping cocktails and dino-gaming
For those with an appetite for gaming while enjoying their favourite tipple, thinking about what they'd do differently compared to the characters in the movies, there's Jurassic World Evolution game by Frontier Games, a business simulation and strategy game which puts the player in the hotseat of constructing and managing their own dinosaur theme park. The aim is obviously to do a little better than the protagonists of the movies, ensuring the dinosaurs are safely contained and guests to the islands leave happy, rather than becoming a tasty morsel for one of the huge beasts.
Just like the cocktail we mentioned earlier, it's not the first time Indominus Rex and co. have inspired the world's creatives; the dinosaur's epic battle with T-Rex features in the official Jurassic World mobile game, while the Jurassic World online slot game at Betway Casino includes appearances from all the fan-favorite dinosaurs from the original movie. There's also Mattel's range of Jurassic Park toys, which, oddly enough, includes an unlikely fusion of the UNO card game and the iconic Dilophosaurus.
Compared to the power of modern consoles and gaming PC's, not to mention mobile devices we take for granted today, back when Jurassic Park came out in 1993 and spawned video games for several platforms based on the first movie, graphics were somewhat, well, prehistoric. Nevertheless, Nintendo launched the NES Classic Edition recently, offering gamers the chance to step back in time to the era of the first movie release.
Both Nintendo and Sega took different approaches to how gamers could emulate the action from the first movie. Sega went with a side-scrolling action gamewith platform gameplay elements, but also added something uncommon to games at the time, which was to allow the player to choose whether they wanted to play as human protagonist, Dr. Alan Grant, or switch to playing as a Velociraptor. Meanwhile, Nintendo closely followed the Jurassic Park story with top-down presentation for outside sections, switching to a first-person view for interior segments.
Jurassic theme your weekend
Mixing up some great cocktails, binge-watching all of the Jurassic Park and Jurassic World movies, or even dressing up as some of the characters for your own cosplay party, then diving into some of the latest gaming releases. You've got the theme for a fun-packed weekend of dinosaur action with friends and family, whether it's at home or at a local cocktail bar; if they'll let you bring a little movie and game madness to their establishment for a few hours.
Our Best Stories Delivered Daily