Let's be honest: many of us have taken something from a restaurant or bar at least once in the past. Maybe it was a copper mug, a little vintage teaspoon, a branded pen or even just a few packets of condiments as a keepsake.
However, some sticky-fingered folks have gone to serious extremes in terms of "getting their money's worth" from venues. Perhaps it is liquid courage (cough, stupidity) or just severe kleptomania, but here are some shocking and hilarious things that our thirsty friends have seen stolen from bars.
WTF Stuff – just why?
My uncle stole bagpipes from a bar in Scotland. Which is ironic, because he is Scottish, lives in Scotland and does not play the bagpipes.
– Christopher Dias
Toilet paper dispenser
– Avi Burn, Owner of Pinks East Village
An industrial sized bag of caramel sauce.
– Becca Mitrisin
Pool table from a pub.
– Dan Warner
I watched a man walk out with a Michelin Star once.
– Philippe Grandbois
The gold chain adorning Gold Dirty Bastard's humble abode (fish tank) at Wu Chow in Austin. GDB's bling was stolen right in front of his little fish eyes and the poor guy couldn't even defend his domain.
– Laci Sargent
At Coachella, this girl came up to me and said, do you think anyone would notice if I stole all the pool floats. She walked over picked up two giant heart floats and the white unicorn float and carried them right out of the party. No one said a word.
– Jerrit Clark
Someone once threw a construction horse through the bar window … then someone stole that.
– Anthony Bohlinger, Bartender at Mulberry Project
We had a cow that was behind the bar at The Sunburnt Cow, sometimes out front, that was repeatedly stolen. Her name was Bessie and she had a sunburn; we went through 4 cows. I still think Sam Ross was behind it all.
– Chris Johnson
Some guys once pretended to be repairmen who needed to fix our video games at Brother Jimmy's, as in Golden Tee and Ms. PacMan The manager let them walk out the door with the games in order to 'fix' them. They never got returned.
– Josh Lebowitz
Bar Decor – PSA: People, bars are not Crate & Barrel
We had some guests rip out glued down old wooden bowling pins from BlackTail, the video is rather historical.
– Jesse Vida, Blacktail, New York City.
Our typewriter at The Penrose by the stairwell to the bathrooms. We made them feel guilty and used some detective work to get it eventually returned!
– Jeremy, Penrose, New York City.
Once took somebody out for drinks who snuck a lamp into her over-sized purse. It was a big lamp!
– Dan Curtis
Baboon Head at Dirty Dicks in Paris
– Christopher Carlsson A couch … and a rug
– John Dimatteo, New York City
Shady Lady had a chandelier stolen out of their bathroom. The. Entire. Chandelier.
– Rick Dobbs, Huntington Beach
When Bodega Negra first opened they served their guacamole in glass skulls but had to stop bc people kept taking them… they weren't small!
– Ali Zweben, @unbuttoningpants
Absinthe fountain. The whole thing. Gone.
– Warren Bobrow, Author
A 200 lb Lawn jockey. Outside of Siro's in Saratoga
– Peter Fornatale, Writer, New York City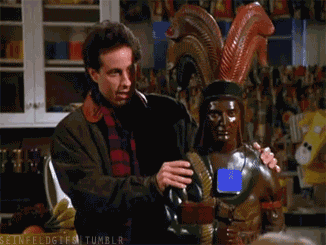 "Someone" stole the huge wooden Indian from Donna and brought it to Mother's. Then someone stole it from us and took it to Mulholland's. It might not be there forever…
– TJ Lynch, Owner of Mother's Ruin, New York City. *** see below***
There was the time that Sother Teague and Eric Job asked me to come to Mother's Ruin one afternoon with my camera to take pictures of them stealing the giant Indian Chief. I don't remember why I couldn't/didn't do it. So I didn't witness it. But I know there were witnesses.
– Gabi Porter, Spirits Photographer, New York City.
Framed Artwork

Framed Art getting stolen from The Up&Up
One of the original art pieces directly from the wall at the Up and Up – William Peet *** sidebar *** I have this fantasy that one day I'll be casually visiting someone's home (someone who, for the sake of the ethics of this fantasy, I do not personally know) and see the piece on the wall. Then I'll coldly and casually steal it back.
– Chaim Dauermann, Bar Manager of Up&Up, New York City.
I stole a 7-foot oil painting of a woman in a white flowing dress from The Tunnel entrance when Rudolf owned it.
– Steve Lewis, Nightlife, New York City
A 12'X6′ 18th-century painting of a Highland Chief behind the bar at the Edinburgh Arms in San Francisco.
– Ed McGrath, San Francisco
People would steal our D&C bathroom sign (the "welcome to the new golden age etc") so often that I kept a stock of framed signs ready to hang. I thought it was a great compliment that they wanted to take that piece of D&C home with them. We hung it by a single nail for years until one manager finally got sick of replacing it and screwed it to the wall
– David Kaplan, Owner of Death & Co, New York City.
Christmas Decorations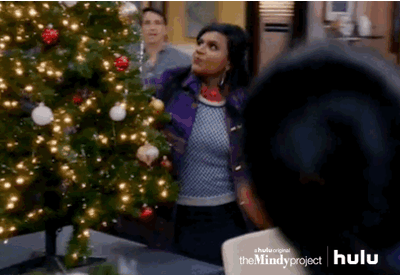 In college, I stole a mini Christmas Tree from a display in a restaurant. Then ran home all the way holding it up like I was the Statue of Liberty.
– Scott Buccheit, New York City
A mini Xmas tree in Mexico (complete with lights & ornaments)
– Jillian Kelleher, Nashville
The big Woodson life-size Santa from a karaoke place. –
– Pamela Wiznitzer, Owner of Seamstress/President of USBG, New York City.
A friend of mine and I once stole all the Christmas lights and decorations from a bar in Cervinia, Italy, on New Year's Eve during a ski trip. When the Carabinieri came pounding on the door to the condo where about 15 of us were staying the next morning, we played dumb and asked them why they were bothering us — their answer was simple: there were fresh tracks in the snow from the night before from the bar to our door, and oh yeah, the curtains were open and everyone could see into our first floor unit, where said friend and I had hung all the lights and decorations in the condo's common area as a gift to the rest of the group. – Dave O'Brien, Spirits Brand Owner, New York City.
– Dave O'Brien, New York City.
Our Best Stories Delivered Daily